Upcoming Performance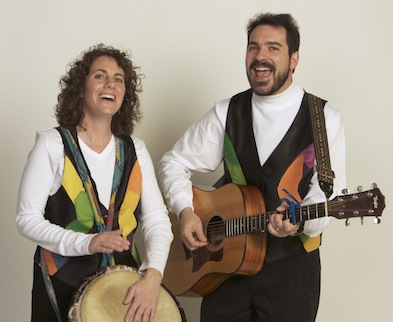 Check It Out!
CDs & DVDs
"Fun, entertaining and loaded full of interactive and lively music for my kids to enjoy!! Your kids will love these LIVELY two and their music too!" – OneBoredMommy.com blog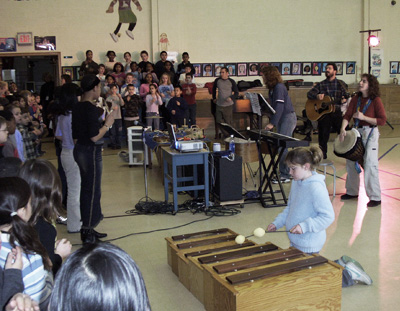 Thematic Programs
Two of a Kind is available for programs at schools, libraries, performing arts centers, concert halls, festivals, museums, zoos, aquariums, camps and special events. Children, teachers and parents love Two of a Kind concerts because of the interaction, the humour, the messages and the great songs.
Artist Residencies
Two of a Kind artist residencies focus on the art and process of songwriting, including both lyrics and music. Two of a Kind residencies are often built around a theme. Through a group creative process students learn about cooperation, creativity, compromise, and accomplishment as well as specific skills and information related to songwriting. Two of a Kind helps children believe that they can make music, and that they can make a difference in the world.
What's New!
David is offering online music classes for grown-ups (in any geographic location) via Zoom, including:
33 Revolutions per Minute: Music & Social Issues
We have found it so rewarding to explore connections between music and political issues & movements for social change, and to think critically about the varying effectiveness of political music, that I am continuing to offer more sessions on this subject.  We will also discuss topics related to "the politics of music".  A wide variety of genres and historical periods will be included.
Wednesdays, 7:00-8:30 PM, July 15 & 29, August 12 & 26.
Single sessions and multi-week classes will be available:
Understanding Classical Music
Have you ever wanted to have a better understanding of "Classical" music?  With a composition degree from Oberlin Conservatory and years of teaching experience, David Heitler-Klevans will guide you through the history of western concert music, including Medieval, Renaissance, Baroque, Classical, Romantic, Modern and Post-modern periods.  In the process, you will learn what to listen for and gain a better understanding of concepts such as form, harmony, melody, rhythm, timbre and more.  This course is intended for people of all levels of musical experience, including those who feel that they know nothing about music!
8 Mondays, July 27 to September 21, 2020 (no class 9/7) from 7:00-8:30 PM EDT
Highs in the Upper 60s: Music 1965-69
Description: The late 1960s was a turbulent time in the US, full of political changes, historic events, and a rich variety of musical experimentation. Come and think critically about the connections between music and events of this era. We will look at many genres including rock, folk, jazz, Motown, soul, classical and more, and we will explore both well-known and obscure musical selections. In addition to recorded examples, David will bring his guitar and sing some of the songs in class.
6 Thursdays, July 30 to September 3, 2020 from 7:00-8:30 PM EDT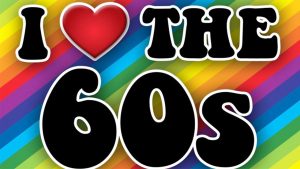 Email David to register or for more information: david2kind@gmail.com
Testimonials:
"Not only does he know the music inside-out, but he links it effectively to the relevant historical moment. The result is thought provoking and engaging for participants. David delivers for students with a sharp intelligence and a quiet passion for the world of music." - Stephen Strahs
"David is a teacher par excellence! He is incredibly knowledgeable . Information just flows from him and you hang on his every word. A true master teacher has knowledge about all components of his topic and weaves it into one story or in his case one song. This is what David does! His pleasant demeanor makes you just want to learn more! I'm looking forward to my third course with him. If you are interested in a topic he is teaching... take it! You won't be sorry!!" - Debbie Neibauer
"I have taken several courses with David ranging from Classical Music to "pop" music of the sixties. I cannot say enough about his mastery of his subjects, enthusiasm, ability to convey concepts, and to make students comfortable with questions and responses. He is truly an incredible teacher and musician." - Natalie Simon
---