David is offering online music classes for grown-ups (in any geographic location) via Zoom, including:
Title: A Musical Mélange: Fusions & Hybrids
Description: The deliberate mixing of two or more musical styles can produce fascinating results. After establishing the characteristics of various musical genres, we will investigate the many inter-genre combinations of classical, folk, jazz, rock, world music, etc., and explore what makes some of these fusions successful while others fall flat. We'll listen to a wide variety of musical hybrids, including Gershwin, Steeleye Span, Miles Davis, Emerson, Lake & Palmer, Claude Bolling, Béla Fleck, The Silk Road, Afro Celt Sound System, "Hamilton," and many more. Along the way, we will discuss some thorny issues such as authenticity, cultural appropriation, and objectivity. 
Temple University via Zoom.
(ONCE1141-002): Wednesdays, March 10 to 31, 7:00-8:30 PM EST
Registration: $85 https://noncredit.temple.edu/search/publicCourseSearchDetails.do?method=load&courseId=55072146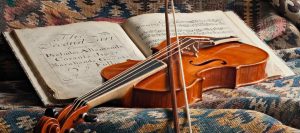 Title: If it Ain't Baroque…Music 1600-1750
Description: An exploration of the period known as the Baroque era of Western European concert music, including a sampling of works by J.S. Bach, Handel, Monteverdi, Purcell, Vivaldi and others.  We will look at the important forms and musical elements of the era, as well as the historical and cultural context.
8 Mondays – 3/1, 3/8, 3/15, 3/22, 4/5, 4/12, 4/19, 4/26 – 7:00-8:30 PM
Cheltenham Township Adult School (CTAS) via Zoom.  Cost: $106
Registration: https://cheltenhamtownshipadultschool.org/?post_type=products&p=4528

Title: Changes – 3 Musical Chameleons: Bowie, Dylan and Stravinsky
Description: Three musicians who have repeatedly re-invented themselves are Igor Stravinsky, Bob Dylan and David Bowie.  These very different individuals are each fascinating, influential and era-defining (in multiple eras!).  We will explore their lives, their music, their impact, and their radically varied creative output.
8 Thursdays – 3/11, 3/18, 3/25, 4/8, 4/15, 4/22, 4/29, 5/6 – 7:00-8:30 PM
Cheltenham Township Adult School (CTAS) via Zoom.  Cost: $106
Registration: https://cheltenhamtownshipadultschool.org/?post_type=products&p=4530
---
Testimonials:
"Not only does he know the music inside-out, but he links it effectively to the relevant historical moment. The result is thought provoking and engaging for participants. David delivers for students with a sharp intelligence and a quiet passion for the world of music." – Stephen Strahs
"David is a teacher par excellence! He is incredibly knowledgeable . Information just flows from him and you hang on his every word. A true master teacher has knowledge about all components of his topic and weaves it into one story or in his case one song. This is what David does! His pleasant demeanor makes you just want to learn more! I'm looking forward to my third course with him. If you are interested in a topic he is teaching… take it! You won't be sorry!!" – Debbie Neibauer
"I have taken several courses with David ranging from Classical Music to "pop" music of the sixties. I cannot say enough about his mastery of his subjects, enthusiasm, ability to convey concepts, and to make students comfortable with questions and responses. He is truly an incredible teacher and musician." – Natalie Simon