Music For Grown Ups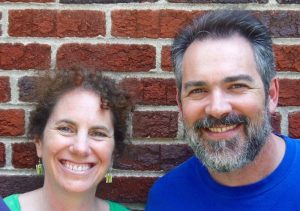 Two of a Kind is the husband-wife duo of David & Jenny Heitler-Klevans. Best known for their music for children and families, David & Jenny bring a similarly eclectic repertoire and engaging manner to "grown-up" audiences. Their harmonies blend seamlessly, with David's dynamic guitar work and Jenny's varied use of percussion resulting in a compelling performance. Picking songs that are both personal and political, they bring their audiences humor and thoughtful contemplation. David & Jenny do their own well-crafted songs as well as songs by the likes of Greg Brown, Melanie DeMore, Dido, John Prine, Peggy Seeger and Tom Waits.  In 2018, they released Lead With Love, their first CD for adults since 1992. Two of a Kind's combination of original songs and well-chosen covers will touch your heart, tickle your funny bone, and give you hope in these difficult times.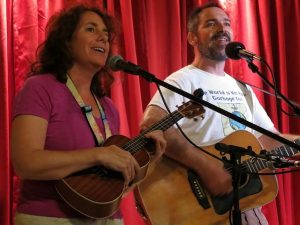 Two of a Kind performs for adults at concert series, festivals, coffeehouses, libraries, house concerts, senior centers and special events.  Two of a Kind has shared the stage with artists such as Pete Seeger, Peter, Paul & Mary, Charlie King, Pat Humphries, disappear fear and Kim & Reggie Harris.
---
What People Are Saying
"They are very talented entertainers, sweet and funny, political, sometimes corny, occasionally snarky, and always fun to be around."
– Jay Mankita, singer-songwriter
"What a lovely gift you were! You completely captivated our group. Audiences are fortunate to find you!"
– Ann Rappoport, Gam Yahad
"'Crazy World' (Jenny's song) is one of the best songs I have ever heard about the role that love plays in keeping us going in the midst of injustice in this insane world."
– Craig Usher, Sounds Celebrating Resistance
"A heady mix of personal and political songs, songs of love and lament, songs that will touch and tickle even the most jaded music lover."  
– Frank D. Quattrone, Editor, Ticket, Montgomery County, PA
---
Recordings
Lead With Love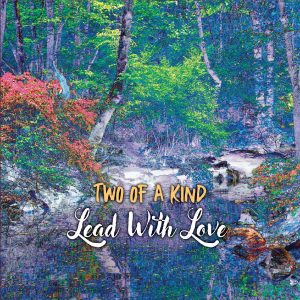 Release Year: 2018
Note: For all international sales contact us directly for shipping & handling
Lead With Love is our first "grown-up" CD since 1992. The CD includes mostly original songs, plus covers (Melanie DeMore, Dido, John Prine, Peggy Seeger) and collaborations with other songwriters. The songs range from personal to political, with an emphasis on songs of resistance and resilience in the face of the current political landscape. We are joined by our sons Ari & Jason as well as our alternative folk quartet Acoustic Blender, plus an excellent band of instrumentalists.
1. Catch a Second Breath
2. Now Don't You Worry
3. Strength Inside
4. Super Callous Fragile Sexist Racist Braggadocious
5. One Foot/Lead With Love
6. Hatred Has No Place (Acoustic Blender)
7. Bobbin' Along
8. B-Side
9. Angel From Montgomery (Acoustic Blender)
10. Going Wrong
11. Thank You
12. The Day After
13. Least Little Thing (Acoustic Blender)
Bonus Tracks (alternate versions):
14. Catch a Second Breath (Acoustic Blender)
15. Thank You (Acoustic Blender)
16. Hatred Has No Place
---
Acoustic Blender: Crazy Whirled
Release Year: 2008
Note: For all international sales contact us directly for shipping & handling
When we're together with our friends Justin Solonynka and Hope Wesley Harrison, we're collectively known as Acoustic Blender.
www.acousticblender.com
This is Acoustic Blender's debut recording!
1. A Home
2. Clarita
3. Lives in the Balance
4. Crazy World
5. Anyway
6. A Question of Tempo
7. Caleb's Real
8. In My Life
9. Why Walk When We Can Fly
10. Metal Drums
11. Even You
12. Suspended in the Air
13. Live Peace
14. Going Home
---
Videos