Upcoming Performance
Check It Out!
CDs & DVDs
"Fun, entertaining and loaded full of interactive and lively music for my kids to enjoy!! Your kids will love these LIVELY two and their music too!" – OneBoredMommy.com blog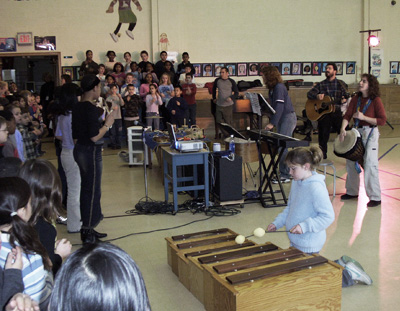 Thematic Programs
Two of a Kind is available for programs at schools, libraries, performing arts centers, concert halls, festivals, museums, zoos, aquariums, camps and special events. Children, teachers and parents love Two of a Kind concerts because of the interaction, the humour, the messages and the great songs.
Artist Residencies
Two of a Kind artist residencies focus on the art and process of songwriting, including both lyrics and music. Two of a Kind residencies are often built around a theme. Through a group creative process students learn about cooperation, creativity, compromise, and accomplishment as well as specific skills and information related to songwriting. Two of a Kind helps children believe that they can make music, and that they can make a difference in the world.
What's New!
Hidden is a musical theater piece based on the true story of Ruth Kapp Hartz, who as a young Jewish girl was hidden in Southern France during World War II. Forced to change her name to Renée in order to conceal being Jewish, Ruth and her family rely on the kindness of strangers in a small French village. From a secret apartment to a basement hideout and then to a Catholic orphanage in a convent, Renée must hide her true identity and learn to survive through a series of harrowing events. Dealing with themes of identity, allies, antisemitism, fascism, resilience and resistance, this musical will resonate with audiences today.
The world premiere performances were May 20 & 21 at Abington Friends School, including the entire script and all of the songs, with professional quality actors/singers, video elements, and live musicians. Appropriate for audiences middle school to adults. Some of the proceeds from ticket sales benefit Yad Vashem, the World Holocaust Remembrance Center. The Righteous Among the Nations, honored by Yad Vashem, are non-Jews who took great risks to save Jews during the Holocaust. Several people in Ruth's story have been honored by Yad Vashem, including the Fedous and the Valats as well as the entire town of Arthès, for protecting their Jewish neighbors at a time when hostility and indifference prevailed.
You can see the livestream of the musical as a video link:
https://youtu.be/W9VZ2mmDylE?si=bM6G71x6D4Xt8qkE
Info: https://hiddenthemusical.com/
---