Sing Me Your Story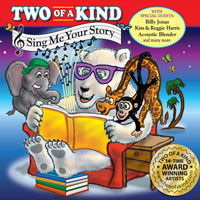 Release Date: 2012
Note: For all international sales contact us directly for shipping & handling
Celebrating the stories in everyone, from books, personal journeys and children's imagination, with special guests Kim & Reggie Harris, Billy Jonas, Acoustic Blender and many more!Many thanks to all of the donors who helped to make this project possible!
---
1. One World, Many Stories 2. Hello 'Round the World 3. Let's Go to the Zoo 4. It's a Mystery to Me 5. The World is Not Your Garbage Can 6. The Mysterious Drawer 7. Birdhouse in Your Soul 8. Coconut Trees 9. Pitfalls 10. Purple Glasses 11. Read a Book (converging song) 12. Tell Me Your Story 13. Imagination 14. Polar Bears 15. It's a Long Way 16. Intro to Family Harmony 17. Family Harmony
"… A highlight of children's music. It is beautifully produced, excellently performed, and it offers music that both entertains and educates."
– Lahri Bond, Review accompanying 2012 Parents' Choice Award.
"Great rhythms, fun songs and a wonderful way to celebrate the music-literacy connection."
– Cathy Fink & Marcy Marxer
"This CD is fun filled, will get your kids hands clapping and their feet moving! Your kids will love this music!"
– Review on One Bored Mommy blog